The Journey began on the rural backroads around his Taylorsville, NC home and ends with the NASCAR Winston Cup circuit. Harry Gant remains one of the most popular figures in American motorsports circles despite having retired from active NASCAR Winston Cup competition at the close of the 1994 racing season. The Taylorsville, NC native drove Skoal Bandit Racing backed machines to victory 18 times during his 16-year Winston Cup career. He also counts 21 Grand National series wins in his total of more than 300 race wins during a career that began in 1964 at Hickory (NC) Speedway .
​
Harry Gant was born in 1940 and raised in the rural setting of Alexander County in the shadow of the Blue Ridge Mountains. His father was a farmer, logger and builder and Gant seemed destined to follow in those same footsteps. By the time he got to high school his Dad was building houses for a living and he worked with him. Later Harry and his brother Johnny owned Gant Building Company until he gave it up in 1978 to go racing Winston Cup full time.

A racing career came about almost by accident for the former carpenter and building contractor. Gant's skills as a racer first showed during his teenage years going up against one and all who challenged him to a contest on the winding roads of rural Alexander (NC) County. "We'd race on the public roads from Dog Crossin' to Paul Payne Store or Taylorsville to Wilkesboro. I won my first race and then it was like bein' a gunfighter. Everybody wanted to challenge me."
---
It wasn't until 1964, after he was married and working with his brother Johnny in the construction business, that Gant raced on a track. He shared driving chores with fellow Taylorsville racer Benny Kerley in a hobby class car at nearby Hickory (NC) Speedway which was a dirt track at that time. He only raced a few times that year. In 1965 Harry was the sole driver and won the track championship. He had to move up to the faster and more expensive Late Model Sportsman class the next year if he wanted to keep running at Hickory . He bought his own car in 1966, a Chevrolet Impala and ran about 6 times that year. 1967 was the year things started to turn around. Hickory Speedway was paved, Harry bought a '55 Chevy and started winning.
---
1969 was the first year he ventured out and made a run for the NASCAR Late Model Sportsman championship running at Columbia (SC) on Thursday, Asheville on Friday and Hickory on Saturday. On Sundays he ran whenever there was a NASCAR point race. He ran 92 races, won 14 and finished second to Red Farmer in the championship.
In 1970 He ran 65 times and won 30. The next year he mostly ran Columbia (SC) and Hickory (NC) and still won 28 times. From 1972 through 1977 Gant ran 70-80 races a year, primarily in the Southeast, winning about 35 each year. Although he never did win the Late Model Sportsman title he did finish second in 1976 and 1977.

Gant made his Winston Cup debut in 1973 driving Junie Donlavey's Ford to an 11th place finish in the National 500 at Charlotte Motor Speedway. In 1978 he ran four Winston Cup races for Kenny Childers team.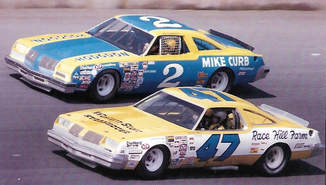 In 1979 Harry got his first full time NASCAR ride driving for Jack Beebe and his Race Hill Farm team. He won a pole and four second-place finishes were the highlights of his tenure with Beebe.
---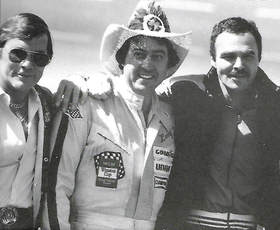 It was in March 1981 that Harry's career took off. He was approached by movie director and stuntman Hal Needham and movie actor Burt Reynolds with the backing of Skoal Bandit Racing to drive for their team. He finished second in his first race for Needham and was third in the NASCAR championship that year.
---
Gant finally won his first Winston Cup race in April 1982 at Martinsville (VA) Speedway. He quickly won again at Charlotte in October and added a third at Darlington Speedway the following year. Harry had a total of 9 wins with Burt and Hals Skoal Bandit. ​Harry's best points finish was in 1984 when he won three races and finished second in the NASCAR championship. Gant's success earned him a position into the International Race of Champions series and resulted in him winning the IROC title in 1985.

1989 was the year Harry and the Skoal Bandit Team moved to the Arden, NC based Leo Jackson team. He won 1 race and finished in the top five 10 times and finished 7th in the Nascar Points championship. 991 was a career year for Gant. He won five races and dominated the final third of the season accelerating from 10th in points to 4th at season's end. His four straight wins in September earned him the nickname "Mr. September". Gant recorded nine more wins with the Jackson team including the four-straight in September 1991.

Harry Gant remains one of the most popular figures in American Motorsports circles despite having retired from active NASCAR Winston Cup competition at the close of the 1994 racing season.